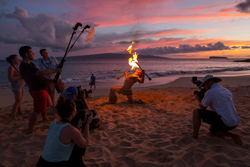 February 9, 2016
by PRWeb
Renowned photographers Robert Caplin and Peter Lockley invite photography enthusiasts to join them on a picture-perfect Maui adventure.
Two renowned photographers, Robert Caplin (New York, NY) and Peter Lockley (Denver, CO) return to Maui to lead a photographic adventure on the island, June 14-19, 2016, hosted by Four Seasons Resort Maui at Wailea as part of the luxury Resort's Unforgettable Events series.

"We are pleased to bring these world-class photographers to the Resort to help students build their photographic skills while capturing the many places and faces of Maui. What better way to take home memories to last a lifetime," says Jean Claude Wietzel.
After a successful debut in 2015, the Maui Photo Expedition workshop will once again consist of on-location shoots, instruction demonstrations, group editing and critique sessions with all that Maui, one of the world's most picturesque natural settings, has to offer—everything from volcano sunrises and secluded bamboo forests to spectacular sunsets on black sand beaches. Four Seasons Resort Maui will serve as home base, welcoming guest participants to luxurious accommodations and amenities along with a choice of dining in the Resort's three award-winning restaurants. Visit Maui Photo Expedition YouTube video to learn more.
Caplin, an editorial and commercial photographer based in Manhattan, specializes in travel, documentary, celebrities and portraiture. A contributor to the New York Times, Los Angeles Times and Wall Street Journal, his work has also been published in National Geographic, Sports Illustrated, TIME and Newsweek. His celebrity clients include Justin Bieber, Tiki Barber, Victoria Justice, Barry Manilow, among many others.
"Attending workshops is a key element in the development of any photographer, beginner or pro. In fact, Peter and I met in a workshop 11 years ago and began our collaboration there. Experiences like these are a time for inspiration, creation and exploration and a great way to develop and refine skills," says Caplin.
Lockley, a sports and portrait photographer, works with editorial and corporate clients to create dynamic and storytelling images. Earlier in his career, he served as chief sports photographer for the Washington Times. He went on to work with such clients as ESPN the Magazine, the Colorado Rockies, and the NCAA.
"Participants will come away with a better understanding of light, composition, exposure, production, editing and printing," says Lockley. He adds that participation is limited to create an intimate experience, with plenty of time for the instructors to work one-on-one with participants. There also will be time set aside to network with peers and local industry professionals.
Both photographers know the Hawaiian island and will take participants to many breathtaking tropical Maui locations to capture the people, the flora and fauna, sunrises and sunsets, waterfalls, beaches and forests that make up Maui's diverse eco-system and vibrant culture. According to Bob Leston, a participant in the 2015 Photo Expedition Class, "I've been there 20 times and I've never seen this part of Maui."
During the photo workshop, the participating guests will receive daily instruction using their own cameras. There also will be time for editing and reviewing work produced. Timing will vary each day in order to best utilize the natural light and opportunities of each Maui setting.
Workshop sponsor, Canon, will set up a sponsored lounge where guest participants will learn about and have opportunities to try out the latest camera products—valued at more than $250,000. Other sponsors will be Adorama, Tenba, and Alii Nui. The workshop will culminate with an evening photo gallery and reception, featuring the work of the participants. Four Seasons Resort Maui registered guests will be invited to attend this reception and view the photography.
"We are pleased to bring these world-class photographers to the Resort to help students build their photographic skills while capturing the many places and faces of Maui. What better way to take home memories to last a lifetime," says Jean Claude Wietzel, general manager, Four Seasons Resort Maui.
Pricing for the workshop starts at $6,990 which includes all workshop fees and a five-night stay in a king-size, ocean view room; $3,000 for each additional participant, up to three staying in the same room. Participants should arrange to have their own transportation; carpools may be organized for some location shoots. Reservations will be handled by Four Seasons Resort Maui through Maui Photo Expedition website.
About Four Seasons Resort Maui: Maui's first and only Forbes Five-Star resort is nestled on 15 acres of the breathtaking Wailea Coast. The 380-room oceanfront property is world-renowned for its comfortable opulence, impeccable service, luxurious amenities and for living in harmony with its environment and community. A TripAdvisor Certificate of Excellence Hall of Famer, the resort in Maui is also home to one of the nation's top-rated spas committed to wellness and three of Hawaii's most acclaimed restaurants—Ferraro's Bar e Ristorante, Spago Maui and DUO, a premium steak and seafood restaurant. This sophisticated home away from home caters to the needs and interests of all generations—offering world-class activities with no Resort fee and one-of-a-kind Unforgettable Events, a museum quality art collection, three pools overlooking the azure-blue Pacific Ocean including an adults-only Serenity Pool with exclusive Missoni-designed cabanas, and more. Four Seasons Resort Maui is a Hawaiian vacation destination geared to action adventurers, those guests wishing to practice the fine art of doing nothing at all, and everyone in between.
Media Contact: Charlotte Novom | Novom Marketing, Inc. | 714.941.9799
Wailea Resort Association has more information about Four Seasons Resort Maui at Wailea and other Maui hotels and all things to do on Maui.  Check out our Wailea Resort Calendar for other upcoming events.